Hair loss is a problem that affects many people, no matter their sex, age or ethnicity. Hair loss is often thought of as a male problem. However, approximately 40% of people who suffer from hair loss are women. Experts say that by the time a woman turns 50, she will experience some form of hair loss pattern. As for men, according to the American Hair Loss Association, two-thirds of men begin to experience hair loss by the age of 35!
If you want to blame someone, blame your mom.
The DNA that you inherit from your mom's side of the family has a much stronger impact than on your father's side. Naturally, there are other causes of hair loss, including stress, age and certain vitamin deficiencies.
Many people turn to surgery as a means of correcting baldness. That isn't a necessary approach, nor is it an affordable one. Transplants generally range between $4,000- $15,000.
We found a natural solution that only costs $55. No, it's not Rogaine…which isn't natural, anyway.
Millennial Beauty Scalp Mushroom Elixir
Millennial Beauty LLC is a luxury brand that specializes in providing exceptional hair care solutions to individuals of all ages, sexes and ethnicity. Their natural hair product, Scalp Mushroom Elixir, can naturally re-grow your hair without the need of surgery. Millennial Mushroom only uses the best, organic ingredients, free of chemicals.
Founder, La Caballero, launched Millennial Beauty LLC this year, yet has lived the "Millennial Mission" for over 10 years. In doing so, Caballero provided hair regimens and consultations to people affected by hair loss. She would researched demographics, including all ethnic hair types, and learned the kinds of hair loss patterns in both men and women.
"All of our hair care products are handmade from scratch. There are no chemical mixes, just natural ingredients from La's high school days and some that she makes up along the way. We don't outsource; every process is done by La to guarantee quality and freshness." – Millennial Beauty Official Website
Millennial Beauty Scalp Mushroom Elixir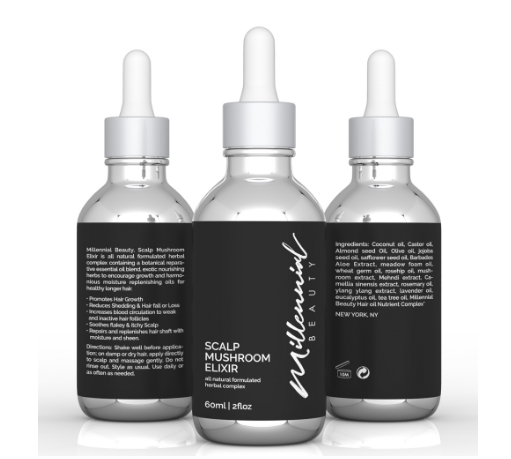 We had the pleasure of chatting with La Caballero to learn more about her Scalp Mushroom Elixir. Our initial interest began with her ingredients, which includes Mehndi extract and Reishi mushroom extract, two ingredients we rarely see in beauty products. In fact, ingredients we have never seen in beauty products, whether it be skincare or hair care. Personally, I was most curious about the reishi mushroom.
"Reishi mushroom is a universal herb that I've been using as my own multivitamin for over 10 years," says Caballero. "Using this herb as a multivitamin allowed me to observe all the accrued antioxidants that showed exceptional amount of new growth."
Her clients, men and women, were also fortunate enough to experience new hair growth by using the reishi mushroom. Caballero attributes its success to the mushroom's natural occurring DHT blocker. DHT is the most common hormone that causes hair loss. Rather than using reishi as a multivitamin, Caballero employed it as a topical elixir to prevent hair loss.
The Ingredients
She says the reishi mushroom has many benefits, which is why she will continue to expand its uses in her brand. It's a very prominent ingredient in her hair restorative herb synergy (Scalp Mushroom Elixir), and states that it is great as a standalone herb for growth.
Yet, she finds that it works best when she combines it with other natural ingredients in her Scalp Mushroom Elixir.
"Everything works in sync with my other oils that, combined, make the unique synergy that is able to partner with other herbs," explains Caballero.
Herbs such as mehndi extract, which creates a healthier scalp and imparts natural keratin (a key hair protein) into the hair shaft. Other ingredients in her hair growth elixir include:
Ylang Ylang, Lavender, Rose Hip Essential Oils: encourages moisture replenishment, reduces oxidative stress and cellular aging in the scalp due to the oils' antioxidant natures.
Coconut, Castor, Safflower and Olive Oils: improves scalp circulation, stimulates hair growth and strengthens hair follicles.
Wheat Germ and Jojoba Oils: moisturizes the hair and hair follicles, repairs scalp damage and allows hair cells to reproduce faster.
And, naturally, there's the reishi mushroom extract which stimulates the hair shaft, improves blood circulation within the scalp and promotes luxurious hair growth.
Can This Product Replace Hair Transplants?
Hair transplants seem like the most effective means for hair loss treatment, if you can afford it. Hair transplants, though costly, differ from person to person. While subject A may receive tremendous results, the transplant might not work at all for subject B. Essentially, you can spend the money and receive no results.
While it may seem like a brazen claim that natural, holistic ingredients can replace the need for surgery, you won't know unless you give it a try. According to Caballero, she feels strongly that her Scalp Mushroom Elixir can replace the need for cosmetic hair surgery, thanks to her natural, herbal elements that encourage hair growth.
The Process Behind the Elixir
Caballero's process in creating her herbal hair elixir exemplifies her love and passion for the "Millennial Mission." As she says, it's very intense and requires a lot of time, patience and knowledge for best results.
"I have a very intensive infusion process that ranges to a month for (a) full infusion of each synergy," explains Caballero. "All of my ingredients are muddled and infused on natural heat to ensure all vitamins and minerals are intact."
She documents most of this on her social media platforms to share the diligence behind her all natural process, such as her Instagram account.
The Best Way to Use the Scalp Mushroom Elixir 
Now for the really good stuff: how to use the product to reap its glorious benefits.
"There are several alternatives to use my Scalp Mushroom Elixir," says Caballero.
She says that customers can use many applications to decrease hair loss and stimulate hair growth, including:
Scalp Treatment 
Apply it directly on the scalp and on dry/damp hair. Massage gently to stimulate blood flow. Style as usual. Use daily or as often as needed.
Hot Oil Treatment
After shampooing or conditioning, apply to scalp and hair shaft. Massage gently. Cover hair with a plastic cap. Use heated dryer or portable heated bonnet for deeper penetration and conditioning. Leave for 15-30 minutes. Follow up with second conditioning treatment. Rinse well. Style as usual.
Pre-Shampoo/Post-Shampoo Treatment
 After shampooing, apply a generous amount of the elixir to the scalp and hair shaft and saturate your ends. Cover with plastic cap. Use heated dryer or portable heated bonnet for deeper penetration and conditioning. Leave in for 15-30 minutes. Rinse well. Style as usual.
"It can be applied to the edge and nape area to repair, replenish moisture, elongate and encourage growth," says Caballero. Her favorite way to use it is as a daily scalp massage.
"It stimulates blood circulation for dormant follicles," she says.
Additionally, she uses a method called "heavy oiling." This is where you apply a generous amount of oil to the scalp and shaft leaving it in overnight. The next morning, you thoroughly wash it out and this acts a hair repair mask that results in stronger hair and a cleaner scalp.
"My scalp elixir is an all-inclusive product," says Caballero. "It truly benefits every aspect of the scalp, shaft and ends."
It seems so…
In a nutshell, the Scalp Mushroom Elixir promotes: 
Hair growth
Reduction of hair loss
Increase in blood circulation to weak, inactive hair follicles
Alleviation of flaky/itchy scalp
Reparation and replenishment of natural moisture
At $55, it seems like a better investment than hair transplants and Rogaine. Would you give the Millennial Beauty Scalp Mushroom Elixir a try?